Expanding into Complex Percutaneous Coronary Interventions (PCI) with the introduction of the coraCatheters™ line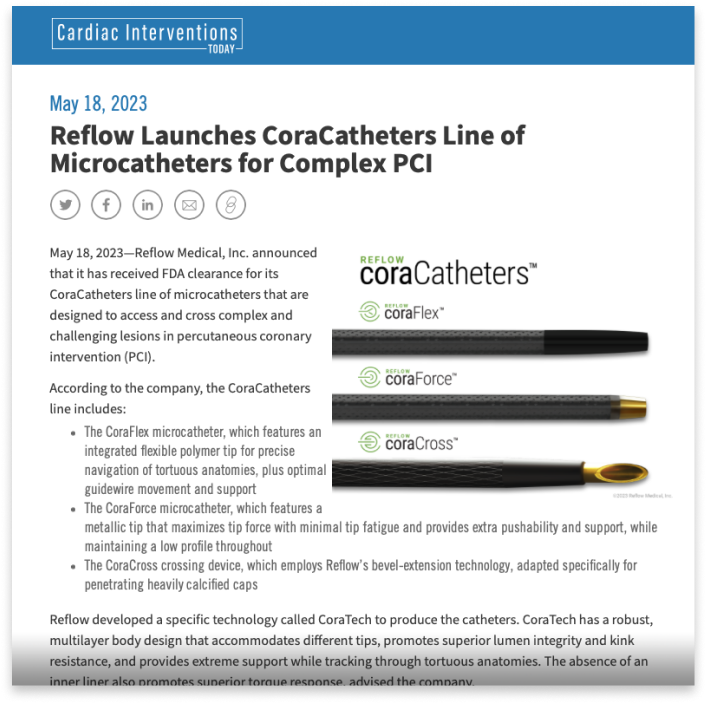 We are proud to announce that we received FDA commercial clearance for our new coraCatheters line of microcatheters. "It's exciting to see a company do the work it takes to produce innovative devices in the coronary space," said Dr. William Lombardi, a globally recognized physician specializing in complex coronary PCI.
---
Dr. Lorenzo Azzalini employs a wire escalation strategy using the Reflow coraFlex™ in PCI-CTO case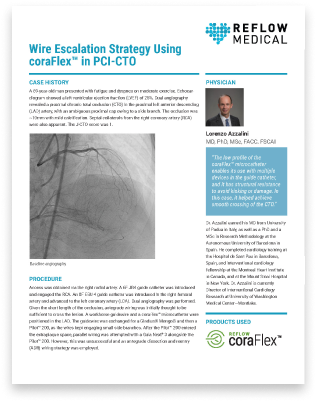 Dr. Azzalini, Director of Interventional Cardiology Research at University of Washington Medical Center – Montlake credits the low profile of the coraFlex microcatheter, as well as its structural resistance to kinking or damage, in describing the successful procedure.
---
Six-month clinical trial results reported: DEEPER OUS and the Vessel Recoil Sub-study: Initial Insights, and DEEPER LIMUS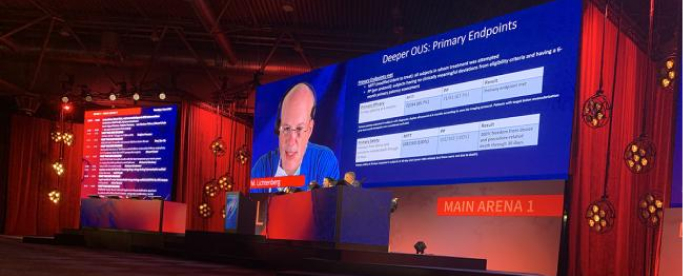 Michael Lichtenberg, MD, FESC, Chief Medical Officer and Director of the Angiology and Vascular Center in Arnsberg, Germany, presented six-month results of the DEEPER OUS clinical trial (NCT03807531) evaluating the safety and efficacy of the Bare Temporary Spur Stent System, followed by a commercially available drug-coated balloon, at the Leipzig Interventional Course, or LINC 2023, held in Germany June 6-9. He noted improvements in the study patients' Rutherford class scores, with fewer than 8% requiring revascularization during the six-month period.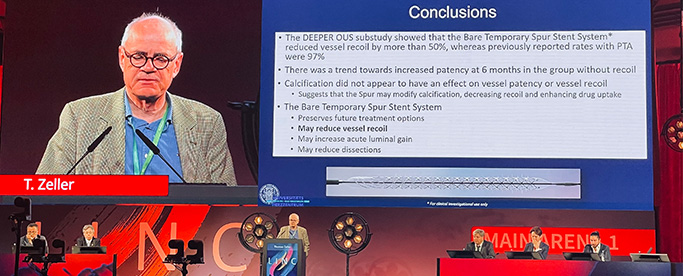 Thomas Zeller, MD, Chief of the Department of Angiology at University Heart Center also presented results of a DEEPER OUS sub-study evaluating acute vessel recoil at LINC. He reported that in 38 patients with a total of 40 lesions treated with the Bare Temporary Spur Stent System, results demonstrated a reduction in vessel recoil of more than 50%, 42.5% compared to previously reported rates of 97% with percutaneous transluminal angioplasty (PTA), and a trend toward improved six-month patency in subjects without vessel recoil.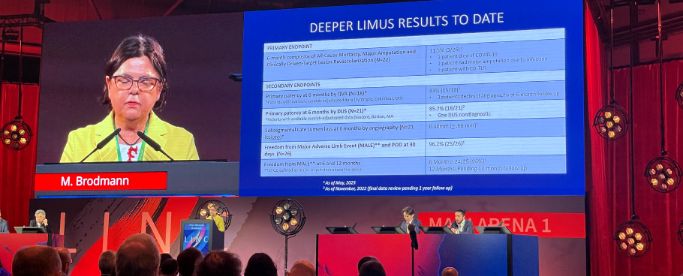 Professor Marianne Brodmann, MD, from the Medical University of Graz, Austria, also discussed six-month results of the DEEPER LIMUS clinical trial (NCT04162418) at LINC. This study evaluates the safety of the Bare Temporary Spur Stent System, followed by a commercially available sirolimus-coated balloon. Data for the completed trial will be presented at CIRSE in Copenhagen, September 9-13, 2023.
---
U.S. Enrollment gains momentum in the DEEPER REVEAL IDE Clinical Trial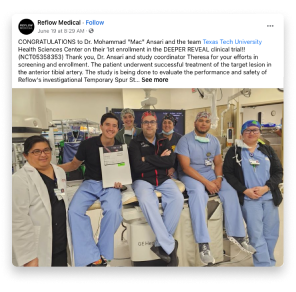 Our Clinical Team continues to successfully recruit sites that are enrolling patients across the U.S. for the
DEEPER REVEAL
(NCT05358353) investigational device exemption (IDE) clinical trial. The study evaluates the efficacy and safety of the Spur Stent for the treatment of vascular lesions in patients with critical limb ischemia (CLI).
---
We've increased our presence at important conferences and symposia