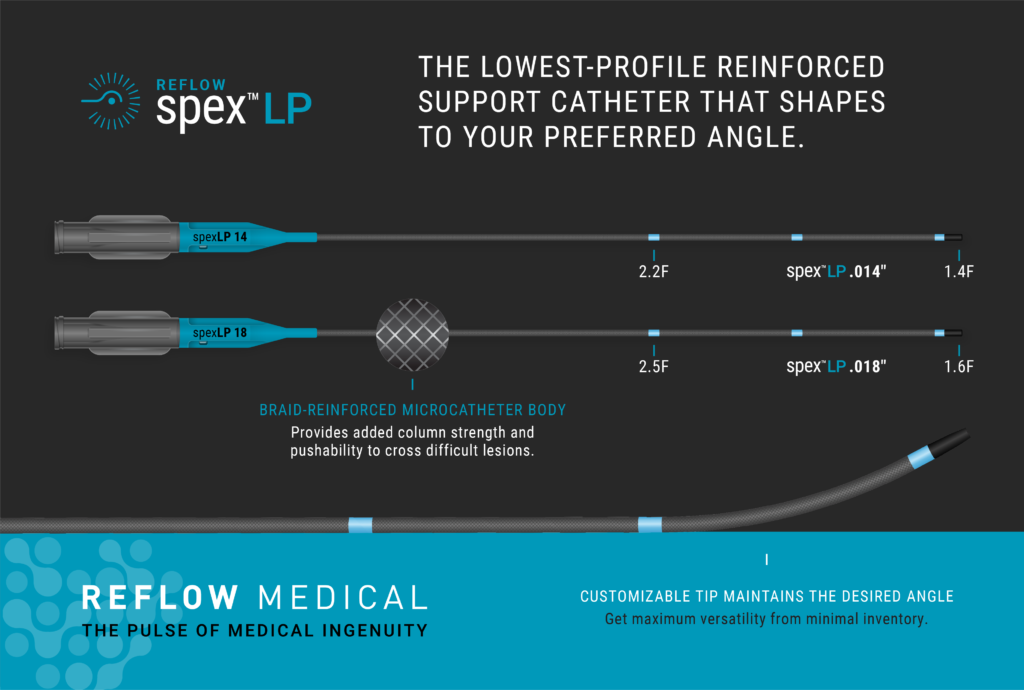 SAN CLEMENTE, CA — Reflow Medical, Inc., a California-based medical device company, introduces the Reflow™ Spex™ LP (Low Profile) 0.014 and 0.018-inch reinforced support catheters. The new Spex LP is engineered to provide the lowest profile tip for accessing and crossing the tightest and most complex lesions with a supportive system. It also features three radiopaque markers that enhance visibility on imaging. The Spex LP can be combined with the Reflow Spex™ 35 for more robust support.
Like the Spex™ catheter, the new Spex LP has a customizable tip that can be shaped to the desired angle and is compatible with the physician's choice of guidewire and procedural technique.
"Using the new Spex LP with the Spex 35 creates a 'telescoping' action for extra support," said S. Jay Mathews, MD, MS, FACC of Bradenton Cardiology Center in Bradenton, Florida. Dr. Mathews was among the first physicians to utilize the Spex LP in medical procedures.
Jihad A. Mustapha, MD, FACC is the Director Endovascular Interventions at Advanced Cardiac & Vascular Centers for Amputation Prevention in Grand Rapids, Michigan. According to Dr. Mustapha, "The Spex LP has an extremely low lesion-entry profile and provides unmatched flexibility and trackability, especially in difficult cases."
Company Co-founder and COO John Fulkerson noted, "Our physician partners expressed a need for a lower profile support catheter that doesn't sacrifice strength. Reflow delivered." He continued, "This product line was advance-engineered for treating complex critical limb ischemia (CLI), targeting an unmet clinical need."
Along with other physician partners, Dr. Mathews and Dr. Mustapha provided valuable clinical insight that was used to develop the Spex LP technology.
About Reflow Medical, Inc.
Reflow Medical, Inc. is a private company focused on empowering physicians through the design and development of innovative and effective technologies for cardiovascular disease. Reflow is developing a family of products to treat cardiovascular disease.